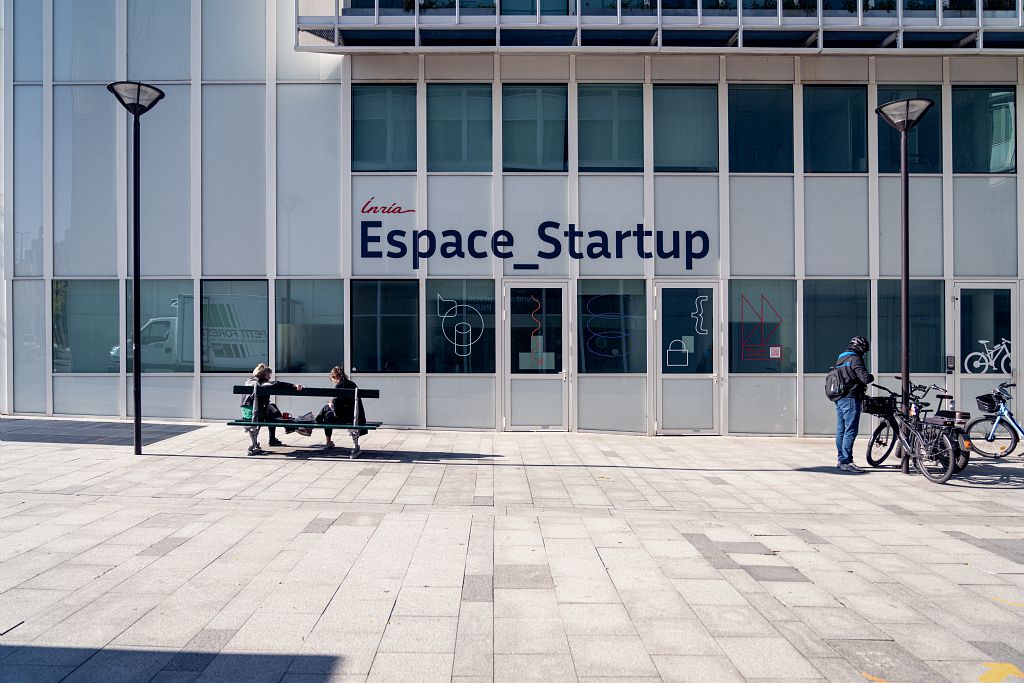 The Entrepreneurial Ecosystem around Inria Startup Studio
Any startup project owner, any deeptech entrepreneur will wonder at one time or another what help, what support she can find to develop her business. The French ecosystem is very dense today and can become a labyrinthic nightmare. Without having the arrogance to fully decipher it, we will give here some keys to understanding it.
Any startup project owner, any deeptech entrepreneur will wonder at one time or another what help, what support she can find to develop her business. The French ecosystem is very dense today and can become a labyrinthic nightmare. Without having the arrogance to fully decipher it, we will give here some keys to understanding it.
A Typology of Startup Support
An entrepreneurial ecosystem can be broken down into several subsets and here are some of them: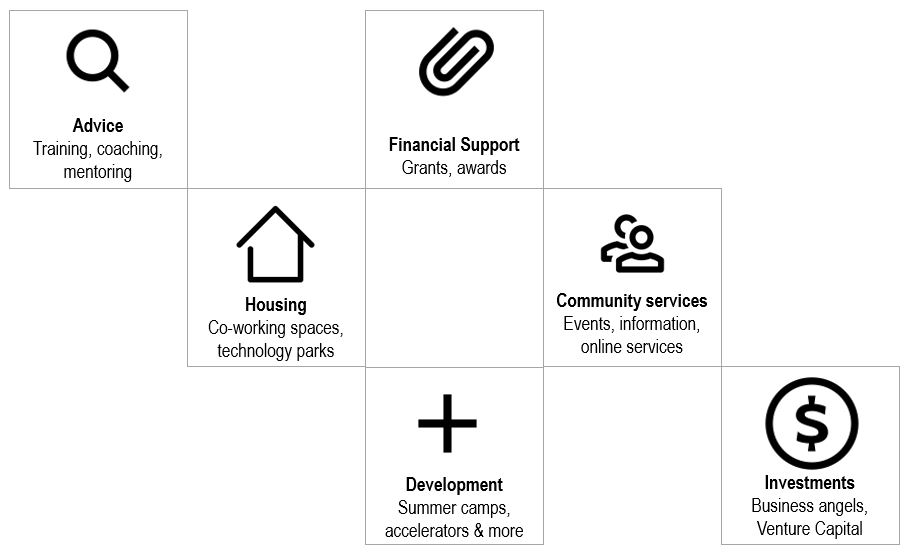 You will find in the middle of the article a substantial pdf document which tries to list the services and aids that we are aware of. Ecosystems are always changing, they are very dense as we have already mentioned, so the document will inevitably be incomplete and even quite quickly obsolete. The broad categories remain and we have defined them as:
Advice: these include training (also MOOCs or online courses), "coaching" rather the work of professionals and "mentoring" rather the work of enlightened amateurs or friends.
Non-dilutive financing: these are subsidies, prizes, repayable loans which have the common attribute of not changing the shareholding of the startup. Even reimbursable aid may not be penalizing in the sense that the reimbursement is often optional. We will not forget here the famous Research Tax Credit (CIR for Crédit Impot Recherche).
Housing is often the activity of dedicated structures such as incubators (public or private), technology parks, but also for limited periods accelerators, French "pépites", startup studios and even co-working spaces. For example, Agoranov and Station F are undoubtedly two of the most famous places in Paris, and we will add, forgetting many, Euratechnologies in Lille, Belle de Mai in Marseille or H7 in Lyon.
Community services: the term is less traditional and brings together here all the supports servicing a small team. Dedicated events such as Find Your Cofounder or more generic and large exhibitions such as Vivatech or Big. BPIFRance is at the origin of many services such as Tandem or Tango. There are also information services (news à la Maddyness or Sifted) or specialized blogs such as Olivier Ezratty's excellent Opinions Libres, from which we have used the magnificent Startup Guide (the latest edition of which unfortunately dates from the Pre -Covid). As simple examples, for Inria, our LinkedIn pages, our Fête des Startup, our hackAtechs fall into this category.
Support for development: sometimes at the intersection of housing, community services and advice, this category is however limited to a few specific tools. Here we include accelerators, programs of limited duration and sometimes variable geography as perfectly illustrated by the iconic Ycombinator and in France DeepTech Founders or Wilco among others.
Investments: cash is king, and in the absence of customers, liquidity injections are critical. Subsidies have their limits in terms of time or amounts, and public authorities do not wish to replace private investors such as Business Angels (more or less wealthy individuals and sometimes grouped together in clubs) and Venture Capitalists (or venture capital, institutional investors who manage third-party funds such as pension funds, insurance companies, banks, large companies). Unlike the previous category of non-dilutive financing, obtaining these investments has a strong impact on the capital structure of the startup and especially on the management of startups by entrepreneurs.
Some Support Mechanisms in an Entrepreneurial Ecosystem
The document included in this article describes our knowledge of the French ecosystem around Inria, classified according to these 6 categories: (download the pdf):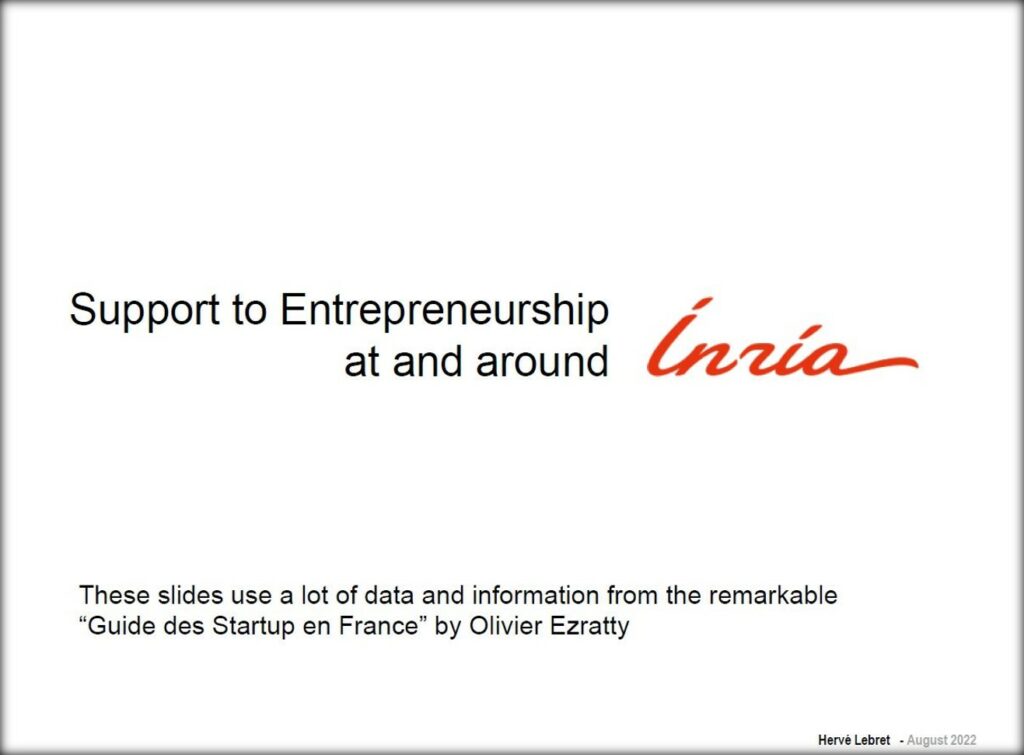 Olivier Ezratty has broken it down by region in his Startup Guide. He uses the following categorization, we quote him. The startup ecosystem is also very active in the regions. With the entrepreneurial wave that started around 2012 and in particular the dynamics driven by the French Tech labeling of the regions, the entrepreneurial and startup ecosystem of all the regions has developed strongly. It usually consists of the following components:
Higher education establishments and in particular engineering and business schools, with their incubators and accelerators. They are supplemented by private initiatives.
Public research laboratories, such as INRIA, CNRS, INSERM, INRA or others, whose teams often work in concert with the laboratories of engineering schools and universities and university hospitals.
The regional departments of Bpifrance.
Regional business support services.
Associations of entrepreneurs.
Associations of business angels, led by local entrepreneurs. This is also one of the eligibility criteria for French Tech cities: successful entrepreneurs must help young entrepreneurs to succeed in turn.
Seed funds, sometimes financed by the regions. Knowing that regional startups should not hesitate to solicit national funds whose headquarters are often in Paris.
Coworking spaces.
Private start-up accelerators, possibly financed within the framework of the €200m from French Tech.
Competitiveness clusters which are 71 in France, including 7 specialized in digital.
Events related to digital technologies and entrepreneurship that take national, international (Startup Weekend) or local formulas
Large companies which commonly use startups in one way or another and having local branches.
Our pdf of almost 80 pages ends with an extraction of Ezratty's report for the regions in which Inria has a presence with a research center (as a reminder: Bordeaux, Grenoble, Lille, Lyon, Nancy, Paris, Rennes, Saclay and Sophia Antipolis). Olivier Ezratty provides an almost exhaustive list of all support mechanisms.
Know-How, Capital and Rebellion
In the excellent The Rainforest by Victor W. Hwang and Greg Horowitt, the authors explain perfectly that entrepreneurial innovation is chaotic and that the diversity and connections of its actors, the incubation, the support, make its richness and its efficiency. The complexity of the Inria ecosystem is therefore its strength, even if it may seem complicated to a first comer. But please remember this is all about people, not institutions. It is the bet of our program to believe in individual talents and to help provide them with the multiple keys essential to their future success.
If you want to learn more about the strength of ecosystems, we encourage you to read two rather provocative articles. The first is by Nicolas Colin (The Family) entitled What makes an entrepreneurial ecosystem? The author gives the essential ingredients: know-how, capital and rebellion. In his essay How to be Silicon Valley, Paul Graham, the founder of Ycombinator, further simplifies the list of ingredients for success by summing them up to the alliance of rich people and nerds. We let you discover their arguments.
Publication date: 15/11/2022